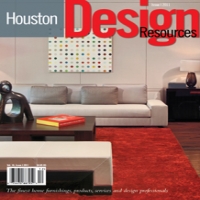 Every day in my shop I talk with designers about their various projects. Regardless of their design style or aesthetic, every designer strives to answer the same questions: How can I set my designs apart from others? How can I make a good design great? Every project starts with the basics – furniture, flooring, walls, and windows. Once the "bones" of the project are in place, a great designer knows the next step is to find exceptional accessories and special objects de arte to define their work and give them a "signature" look that sets them apart from the ordinary – to design without reservation.
Designing without Reservation
To design without reservation, one must be willing to go the extra mile in locating just the right pieces for the space in which they're working. Accessories can allow you to play with light, colors, and textures to add a heightened level of sophistication or create a sense of drama. If you have studied the great designers of our time, like John Saladino and Mario Buoatta and the beautiful interiors that they have created, you can see the passion with which they choose the elements that have been combined to create amazing rooms. Aside from great proportion and scale, the thing that draws me in is how they seem to have designed with abandon. They are not afraid to mix periods and styles, and the final touches always seem to be perfect. Exceptional designers are really artists whose canvas starts with a bare room.
Collect the Rare and Beautiful
Designers can help their clients celebrate their homes by combining the best of the past and infusing new elements for an inspiring future. As Coco Chanel once said, "Fashion fades, only style remains the same." Look for artwork and items that reflect your personal style and will continue to bring you pleasure for decades to come. In choosing the accessories that reflect you, I'd encourage you to select items made from "real" materials such as glass, porcelain, bronze and marble – these materials provide a feeling of permanence and a touch of luxury in the right places. Resin lamps, plastic coatings, and plexi-glass accessories, however, are shortlived and will go the way of the next garage sale. It may not always seem feasible to afford the best-quality accessories, but careful planning can allow you to find the right piece that will last. Search for the best quality that you can afford. For someone who wants a big look on a small budget, select one good, eyepopping accessory and fill in the gaps with less expensive items.
Select Timeless Treasures
In our endless pursuit of the future, it is comforting to know that good taste and a sense of style can transcend fleeting fashions. In my experience, the accessories listed below have proven to be more than a passing fancy; furthermore, they are easy to incorporate into a modern design and create an element of luxury and style. When looking for that timeless accessory to add depth to your design, consider: "…add whimsical touches and add some drama and luxury."
1. Framed Artwork
Art is a very important accessory for any room. The pieces you choose need to not only fit the room's size and dimension, but should also be something you want to look at for a very long time. The color and style of your artwork can add immeasurable impact to your surroundings. Oil paintings from the 18th and 19th centuries provide a sense of elegance all on their own. Collections of lithographs and etchings, grouped in interesting arrangements, can be an eye-catching means to fill out a blank wall. Buy signed art of notable artists if possible; if not, buy art that pleases you and adds color and substance to the walls and surroundings.
2. French Gilt Mirrors
One of the least expensive guarantees of glamour is the mirror. Any mirror's reflection can broaden the dimensions of a room, but the carving and the depth of the French Gilt Mirror provides a touch of unique elegance. It immediately introduces a sense of infinity and grandeur whether it is a traditional wall mounted gilt-frame above a mantel or a tall elegant mirror on the floor leaning against the wall.
3. Porcelain Accents
I enjoy porcelains in a variety of color ranges. Asian porcelain in blue and white has been around for centuries and is always en vogue. Rose Medallion, Satsuma and Imari are highly sought after by collectors, and the colors can really make a room "pop." For the Francophile, Sevres porcelain will add that special spark to a room. Porcelains are not just for museums; they add a heightened grandeur for special projects.
4. Antique Chandeliers
I love the way light shines through crystal.. Chandeliers not only light a room, they also add a sparkle of opulence. With so many options and styles available, it has become easier to find the perfect chandelier for a room. Finding the right chandelier to accent your space is like finding the perfect piece of jewelry to wear with your favorite dress.
5. Painted furniture
Now popularly known as "shabby-chic," hand painted furniture is not a new creation. It is believed to have been introduced to Italy around 700 years ago. I fell in love with this type of painting after a visit to Pompeii. The lovely, soft patina and colors they used with exquisite motifs still inspire artists and are copied to great extent today. It is a rare treasure if you can find one of these old pieces in good condition.
6. French Mantle clocks
Antique pendulum clocks are remarkable objects; they give time, they are witnesses of their own times, and they symbolize multiple aspects of the phenomenon of time. French bronze pendulum clocks not only tell the time with great precision, but also depict magnificent sculptures which more or less relate to time, especially heroes and gods of Greek and Roman mythology. They look wonderful on mantles and are often a focal point of the room.
7. Tapestries
Weaving is part of the fabric of life. People from ancient civilizations of the Mediterranean and Middle East to nomadic societies and even the American plains all created woven textiles. The art of wall hangings and tapestries is nearly as old as the practice of weaving itself. Today, tapestries are a preferred choice of many designers. A resurgence of in interest in tapestry has been apparent since the 1990's. Tapestries are a wonderful way to add color and an artistic appeal to a space, or add a feeling of warmth, as they did in drafty castles of centuries past.Today they are loved for their ability to tell a story and valued for their historic insights. Look for tapestries in good condition and pieces that have retained their color.
8. Statuary
Whether you like marble, limestone, or bronze, statuary can add another dimension to any interior. Today, statues are sought after to fill art niches, pedestals, and gardens. I love these works for their historical significance. Statues almost always tell a story or have a theme that the artist of the time wished to convey. In choosing this form of art, look for the detail in the workmanship and whether these pieces are signed. Also, consider the scale and location in which you wish to display them.
9. Classic Books
Decorating table tops, shelves, and bookcases with lovely old leather-bound books gives the comfortable and inviting look that suddenly makes rooms more livable and inviting. I love mixing books in with other shapes in bookcases.
10. Garden accessories
In decorating interiors, it can be easy to neglect the outdoor spaces in a home or building. Gardens can become elegant living spaces with just a few touches of accessories. I love garden benches in iron or teak, beautiful old urns to hold pots of bright flowers, sculpted fountains, and outdoor statuary. Garden accessories expand the look of your home and make an inviting place to entertain outdoors. In looking for inspiration – for my own shop or for my clients – I look for those items that are stylish and timeless. In choosing antique accessories, you will discover more than furniture. The best advice I have for designers is to add at least one great antique accessory to your rooms. Experiment with mixing styles, remember your interests and passions, and create a design that reflects your personality to ensure that it can be enjoyed for years. Have fun with your accessories; add whimsical touches and add some drama and luxury. Building your collection should be about the joy of owning beautiful items that enhance your surroundings.